Sold


Cambridge P80+T55 £129,


Uher Miniline £129,

Ross microphones £10.50,


Pioneer PL-12D sold on Bay for £63.98+£13 postage, then eBay buyer resold with Turntable selling for £117, SME shell for £67, Empire cartridge for £22 and Euro mains plug for £10.50 and still has the balance to sell! Buyers paid £152.50 over what they could had they looked three weeks earlier.

Transcriptor stylus scale £99



Meridian literature £23, CD module £34, Tuner module £55.01, FM Tuner £103 (an inferior condition tuner sold for £130 a month later), MM Module £30.


Dansette £9.99

Murphy Radio £31

Alba £2.20

Hitachi £23

National GX300 £29

Selga MW/LW Radio 1960s

Juke Box Radio 99p

Pro-luxe headphones 99p

National Panasonic TC-800G portable TV £19

Elonex Photo Frame with Freeview £55

Sony 25" CRT TV £5


Philips DVD player with remote and HDMI cable

song bird quartz clock 99p

Jewelled travel alarm £2.23


Timemaster quartz clock 99p


Quartz travel alarm 70p

Silver Quartz mantle clock £1.25

Silver Quartz mantle clock 99p

Smith alarm clock 60s £1.25


Poppy plate wall clock

Windsor wall clock

Apline style wrist watch £4.99


All Star basket ball 99p

Kettacar £24



Binatone Answer Phone £1.04


three piece suite £9.99

Foot stool 99p
Mirror and glass shelf £9

Double divan bed 4' 6" £16.01


Three doors (one mirror) £23, double door £16

Teak wardrobe with double doors and shelves £19, double doors £13.50


Bed head & Side tables/draws £9.99


oak veneer three pieces sold for £20


Silentnight Orthopaedic supafirm single 3 foot bed. with white headboard sold for £20


folding stool 99p

tootal blue new 15 and a half


BMC Driver's club £0.95
£31.89 3 year badge and handbook

Red Cross £3.20
Guinness 25p
Golly cyclist £1.99
TV 21st C. £15.15



Apostle spoons 50s/60s £1.31

Braun Multiquick Set - 3 speed handbender £9.99

Automatic potato peeler £2.32


Cook's Kitchen 2 cup coffee filter £1.99

Russell Hobbs coffee percolator £15

Russell Hobbs milk warmer £15

four mugs £1.49



Bone China Japanese style £29


Rose flower tea set £26

Multicooker £3.65

Deer pattern glasses 99p

Frank Thrower Darlington £4.99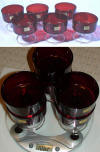 Luminarc sundae dishes £10.49


Tea Towels


Picture tea towels 50p each, general ones (bottom photos) 25p each sold on Facebook
BBC French Experience course £7

Mega Memory / speed reading course £5


256Mb RAM 133MHz

Jaz drive 2Gb £13.50


Jaz drive 2Gb £16

HP Jetdirect 170X J4102B £3.20



NT3.51 £12.07

Which? pda
black pda £1.25

Sinclair Cambridge box only £3.20

Sharp EL376H

Rabbit phone £17


Rabbit phone £31

NEC TR5E100-9A analogue cellular phone £19.99



Holdsworth Mistral frame £70

GB brakes £47

foot pump 70p

Auto-verbandkission car medical kit £1.49




1960s Black and decker kit £1.04

B&D cordless drill £2.98


Aven Trimtool 99p


Flymo Mino Trim £5 includes spare lines and instructions.



Freerider Mayfair £299


RAF brass buttons £29.75

Response security and extra PIR £9.99


Ash Tray SS Nevasa 99p



Royal Winton vase 23cm £2.99

Pair of bed side lamps £3.99

Desk lamp £1.99

Given, Freecycles




A number of items donated to the Centre of Computer history, Cambridge. All the NewBrain material, 6 AD, transparent AD, disc controllers, expansion modules, binders of Software Technical Manual, new module cases, risers monitor stands, 3.5 and 5.25" floppies, books, newsletters, Philips monitor, Hitachi monitor, Cumana floppy drive, 3.5", 3" Amstrad drive, housing modules, micropage, PI Box, PCBs, sound card, EPROM Blowers. 17" and 19" monitors. Canon A3 printer, WinTV card, Sony K800i, Philips Savvy phone, Nokia phone

HP200 data cartridges
Creative DXR2 MPEG accelerator card for DVD ROM (drive available, but will not read any disc)
Seagate 2Gb SCSI wide drive
IBM DRVS SCSI LVD 9Gb DEC99 drive
IBM DDRS 39130 9139MB FEB00 drive
IBM DDRS 39130 9139MB NOV98 drive
Iomega Zip power supply
3COM 3C905C 10/100 ETHERNET PCI CARD
Ethernet cable with BNC connector
Ethernet cable with BNC connector
Logitech Wingman games control midi interface as new, un-used
Logitech Joystick midi interface as new, un-used
Mid size Midi Keyboard Commodore
Matrox GT450 PCI dual monitor 16Mb graphics card, G45-MDHP16DB
Computer: Intel SE440BX-2, PIII, 555MHz, 386MB, Sony 17" Monitor, 20Gb H/D, CD-ROM, Matrox G400-TV, Sound Blaster Live, Intel 100 Pro ethernet, Logitech scroll mouse, Microsoft Natural keyboard
Computer: Intel SE440BX-2, PIII, 555MHz, 768Mb, Sony 17" Monitor, 15Gb H/D, new DVD-CD RW, ATI Rage Pro 32Mb, Sound Blaster, Intel 100 Pro ethernet, Logitech pilot mouse, Cherry keyboard
Computer: Intel SE440BX-2 with onboard sound, PIII, 555MHz, 768Mb, Iiyama Pro 410 17" Monitor, 4GB NeXTStep/Win 98, 9Gb WinXP, Yamaha SCSI CD-RW, Panasonic DVD RAM drive, ATI Rage 8Mb, Intel 100 Pro ethernet, Hauppauge WinTV Theatre, new Microsoft optical mouse, Microsoft Natural Keyboard includes NeXTStep 3.3 & Developer, Enterprise Objects FrameWork, (10CDs including 3.2), NeXTStep manuals and Objective C
Sony Picturebook, notebook PCG-C1XN 128Mb RAM, 6Gb H/D, Win98SE with recovery CDs, BP51, BP54 quad capacity, usb Sony Floppy drive, UBS memory stick reader
Xircom Rex 6000 with USB interface adapter, fresh batteries, leather case, crystal case
Psion Wavefinder DAB USB for Win98SE, XP (but SP2)

Fifa 96 and 97 (2 CD-ROMS)
Slim City 2000
Biology education CD
NT 3.51 with manuals and software on CD-ROM and floppy discs
Creative Encore 5 with DxR2 PC-DVD accelerator card drive assumed not be working was last used with NT4, Win 98 and no drivers for XP. The accelerator card has a pass through cable to the graphics card for the display. Ran on a Pentium II 550MHz PC

Alba DVD player

Sony Stereo cassette 3 band radio and cassette






Clothes donated to Emmanus



Flymo cordless strimmer. Working order. The battery lasts up to 20 minutes when new. The battery fitted will not charge and so needs replacing (lead acid type from B&Q or a specialised lawn mower outlet). Motor runs off charger so the only fault is a flat & dead battery. Works well enough to do the borders of a lawn, but not enough juice for bigger jobs. Instruction manual, charger and wall bracket included.


Racing bicycle handle bars alloy
CD stand made of metal, back. Free standing
Olycom phone with hands free, call timer, clock, last number recall and memory. Including original manual and box. The "white" phone became very discoloured and so was sprayed metallic purple. taken

Intruder alarm, runs off batteries (last about a year). Back plate secures to wall or desk and removing it sets off the alarm. Keyboard 4 digit code to arm and to deactivate. One row of the keyboard numbers does not always work but other keys are okay to set your own code. Includes instructions. taken


ironing board - get a new cover and it is perfect.

given as a present


Rainsoft soft water system with reverse osmosis filters and storage. TAKEN 12/12/12
Electric clock for flushing, storage container for salt removed when house was sold as working units


Matching reverse osmosis drinking water system. The three filters will need replacing and the bladder to maintain the water pressure for the drinking water needs pumping up or perhaps replacing.


There are UK suppliers in this region so parts are available for fitting but you need to plumb in yourself or find a plumber familiar with fitting these. As can be seen these take most of the under sink space. The reason I didn't fit is my water supply comes into the bathroom and there is no space for all these boxes and pipes. Original price was £1600 and remains a high quality unit suitable for a family of 4 or more.


Logitech wireless keyboard and mouse


Highbank £25

Highbank £25


wooden step ladder
-----------------------------------------------------------------------------------------------------------------------------

to recycle centre/ landfill


glass panes three large and a number of small panes
plastic garden chair
Single steel frame bed with folding leg
Plastic and clay plant pots and trays