Things to pack for International Travel
Choices

of backpacks


Hackpack V1.0

an every day carry for college or the office


Bobby Bizz

an every day carry convertible brief case


Tortuga Set Out Divide

a 26 to 34 litre travel backpack


Things to pack
If you travel by personal transport the boot of the car can hold a load of your clutter. Weight is not a particular problem. If you expect to use public transport and have appreciable waking between bus stop, train station and the hotel you want as little luggage as you can get away with.
There are travel blogs and demonstrations on YouTube on how to pack and what to pack. There is a strong one bag carry ethos. Unfortunately the flight restrictions make this a mute point. The size and weight are restricted. For some flights only one bag is permitted as carry-on. For others you are allowed a tote, laptop bag or brief case as well as a larger case. Weight more than volume is the issue.
Most international airlines permit the carry-on bag to be under 55x35x25 cm (all but one 40x30x20cm) and under 8kg weight (all 5kg). My technical gear of Windows tablet and mirrorless camera and lens in a daily carry backpack comes in at 7kg. Clothes and backpack at 8kg.
You don't need to carry with you wash gels, shampoo etc as these can be purchased locally. Have the minimum until you can shop for more. Umbrellas and items of clothing can be purchased if needed.

The other restriction that affects some is on pocket knives and manicure sets with scissors and nail files. For a week you may do without. For a month or a three month working trip you may feel that you need something with you. I have thought about carrying everything with me and handing over a small locked bag with only the prohibited items in it. Too likely to get lost in handling.
So for the backpacker the weight and volume of every items becomes significant.
What is the climate? Not only where you are going to be but where you come from and return to. In warm climates you may still need warm clothes as the temperature can drop from high 20s to under 10 degrees after sunset. Layering, using two or more items of clothes to built up to the level of warmth required, can help.
For sight seeing casual comfortable clothes. But for a night out, whether the theatre, opera, a concert or a night club you may need something smart and special. For work you may need formal business outfits and garments bags that avoid them getting creased.
Special gear if you are trekking up mountains, through jungles or across sand dunes or when taking part in activities such as snow boarding, skiing, water sports and sub-aqua.
I have heard you are more likely to get an upgrade if you wear a suit and don't have a backpack.
Slogan tee shirts are out too, unless you are a teenager or want to look like one. The jokey ones, those that are not misogynistic, are like telling the same gag over and over again.
Cargo shorts might seem like a neat idea to carry extra stuff but that weight drags them down from your hip. They have an unbalanced look.
Do you pack a travel iron? It is nice to have smartly turned out clothes with pleats in the right places but even the smallest of travel irons is heavy. Can you get by with laundry services for those few items and wear clothes that don't wrinkle.
How much to pack? For a week you might want to pack for changes of clothes without laundry. That might work for 10 days. For longer pack less and use laundry services or use your soap to wash clothes yourself. Quick drying clothes help. You can't drip dry everything. Laundry services for formal shirts, trousers and suits. You do run the risk of damage - broken zips, lost buttons and shrinkage. You also run the risk of not getting back the right items and receiving some body else's. If you can pack for a week then you have enough for months.
Roll your clothes or packing cubes? Roll your clothes in compression packing cubes. You might find that you can pack in more by folding and then rolling your clothes. For tee-shirts, under clothes and socks this does seem to work out. For collared shirts, trousers and dresses folding down to the size of your bag and laying flat may work out better. Jackets and coats - garment bags and the least folding the better. Other than the jacket and coat wore whilst travelling try doing without.
Electric Shavers or safety razors, electric tooth brush, floss and picks, hair curlers or strengtheners, blow driers we love our gadgets.
Anything electrical has to work in the countries you are visiting. Then you only need a mains socket adapter and not a voltage converter. Mobile phones, tablets and laptops have had 110-240v chargers for many years but perhaps that is not so for hair driers.
Take a battery razor not a rechargeable one unless one charge normally lasts you for longer than your trip. Standard batteries are easy to obtain.
Is the bulk of a rechargeable toothbrush really worth it? The Braun Oral B D701 USB Travel Case is large and requires a separate charging unit because of the unique plug deplored. You can charge a mobile phone from it at the same time which in turn may save some space.
For the flight you might want toothpaste and your own soap and a flannel. Perhaps anything else can wait until you book into a hotel. Don't take full size bottles of anything. Transfer to small plastic containers and label them. Some 20-60 g size bottles are stackable and some are squeezable to get that last drop out.

It might be useful to have a couple of plasters to keep cuts clean and medication for pre-existing medical conditions. Carry a multi-tool rather than medical scissors - neither of which can go in your carry-on. Many of the items suggested below can be purchased locally if needed.
antiseptic
painkillers
wound-cleaning gauze
sterile dressings
bandage tape
plasters
tweezers
scissors
thermometer
antihistamines
sunburn treatment
insect repellent
insect bite treatment
condom
Consider:
water disinfectant
anti-diarrhoea medication
rehydration sachets
anti-malaria medication
mosquito net
Jabs for holiday in India. Prices from:-
Hepatitis A £49
Typhoid £30
Tetanus £32
Diphtheria £32
Hepatitis B £120
Rabies £165
Japanese Encephalitis £178
Cholera £56
total of £662

The first four are recommended for everyone. The others for some travellers depending upon where you are going within India.
For most of us and for most of the time this is an extra that is not needed. Some hotels might have them in the draws or available from the lobby. For those occasions when a jacket pocket got snagged and ripped, when you sat down or bent over and split the seam of the trousers or a seam starts to unpick having a needle and a small length of thread comes in handy.
Thread for repairs to clothes and bags
Spare buttons for shirts, blouses or suit
Needles
A needle threader
Safety pins.
All you need is the basics and can make a card like this from what you have at home.

You can buy bottled water in most places or boil water and let it cool overnight. A small 500ml thermos can be filled with coffee or tea for use when sight seeing or on a train journey.
Get one with a cup in the top. Or get a double walled stainless steel mug. The Summit version allows you to unscrew the carabineer handle to pack more easily. Pop the screws back in or use shorter ones so water does not get between the walls.

If you don't have safe bottled water, you should boil your water to make it safe to drink. Boiling is the surest method to kill disease-causing organisms, including viruses, bacteria, and parasites. Not everywhere fits out hotel rooms with electric kettles. You might want to pack a mini boiler and a suitable container (a mug) to heat the water up in. Pack your favourite tea if you really must - assuming customs allows you in with food products.
A large bath towel of the finest luxury Egyptian cotton may be your preferred choice but for a few weeks a microfibre towel will do the job and are quick drying. A small towel is likely to be sufficient but a larger one may provide modesty and even extra warmth used as a blanket if temperatures suddenly drop.
Dark colours may bleed in the wash so DON'T wash with your white underwear or shirts unless you want to have a permanent dye on them. I found it easier to pack laid out flat than rolled up.
Sleeping bag liners have become popular with travellers. They are light weight, easy to wash and provide better hygiene with a sleeping bag and add warmth. Silk are the lightest (200g) and easiest to dry. Cotton is warmer but also heavier (400g). Poly Cotton is cheaper and midway in weight at 250-300g. Make sure to get one suitable for your size. They come with Velcro or zippers. The Velcro might separate whilst sleeping. Full length zippers add weight.
To sum-up the uses of a sleeping bag liner:
- To use in warm climates instead of a sleeping bag or sheets
- To help protect against biting insects
- To increase the warmth of a sleeping bag
- To protect the inside of a sleeping bag from dirt: easily washable
- To use in overseas hotels or hostels, protecting against potentially contaminated sheets
- To increase next-to-skin comfort, aid relaxation, and a good night's sleep
Mine remained unpacked. I never needed it. Small enough and light enough not to be an issue and it may have proved useful for the reasons stated above.
Many people simply use their mobile phones. With 23Megapixel camera, as on the Sony XA1 they rival many compact digital cameras for both stills and video recording. You can even strap on telephoto and wide angle lens. In some lighting situations the automatic features work better than on a digital camera - particularly in over exposure situations.

For over 40 years I carried a subminiature camera with me daily. Going on a trip meant carrying a couple (slide and negative film). In 1989 I purchased the first Sony Hi8 video camera for a trip to India. In 2006 and 2008 to film a wedding in Nottingham, Union City (California) and in Newcastle I used 35mm SLR and compact zoom cameras, DV tape video recorder at 1440x1080 and had a backup mini DV video recorder and large heavy duty Slik tripods from the days of using a shoulder mounted Sony VCC5000 Hi8 king corder.
When sight seeing in San Francisco my smart phone spent so much time trying to find a satellite signal to provide me with a map that it ran the battery flat my midday. This phone normally last three or four days between charges. A film camera with a battery that is good for a full year does not have this problem. Android and iOS phones rarely last out the day. So we now carry large and heavy battery backups.
Using a compact digital camera, a 4/3rd system or mirror less camera provide greater flexibility and choice in your photography but at the expense of bulk and weight.
| | |
| --- | --- |
| Sony Nex 7 with 16-50 power zoom | 474g |
| 18-200mm power zoom with hood | 760g |
| Battery charger and two spare batteries | 128g |
| External microphone | 51g |
| Remote | 35g |
| Gorillapod | 195g |
| MeFoto RoadTrip Air Tripod | 1194g |
2837g, over 3kg with camera insert bag. 42% of that is the tripod.
Most camera bags and organisers are for compact cameras or DSLR. That is either too small or too larger. I need a bag that is 90mm deep for the Sony 18-200mm power zoom lens. The camera is only 80mm high. This one does take all my gear and is only 100mm deep.
At £5.62 from eBay is a bargain.
The lid has storage for cables and mesh pockets for spare batteries. You can slip in SD cards. I use a credit card size holder for SD & micro SD cards.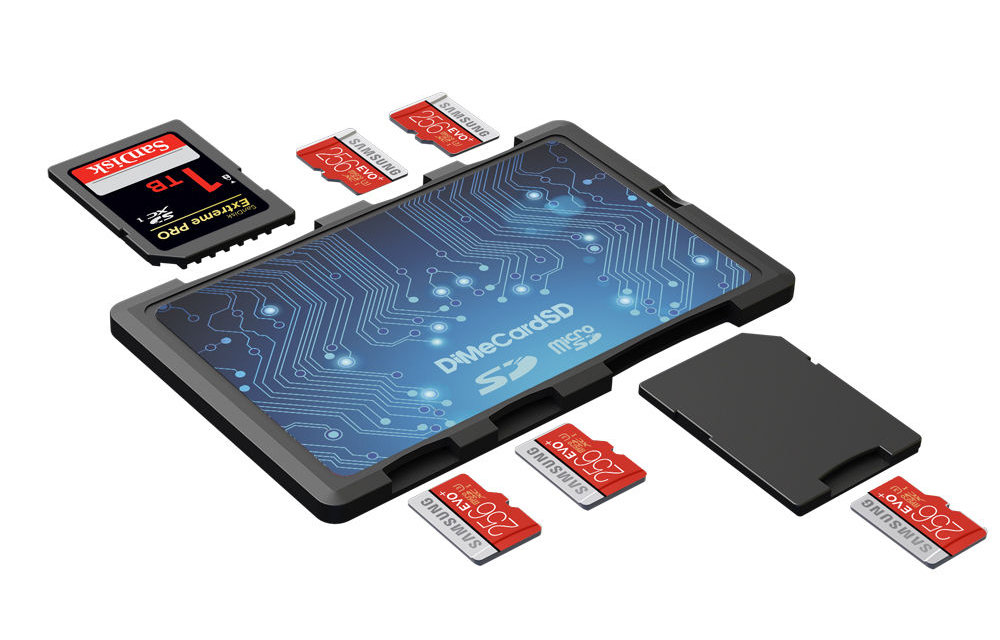 There are backpacks designed for GoPro, other action cameras and for drones. Drones are not legal in all countries (banned in 15 countries) and various restrictions apply.

Alternatives worth looking at include the Duragadet Padded EVA case. This has a hard base and is 90mm deep x 180mm x 245mm (85x165x215mm internally). This is £15.99. The lid has only two mesh pockets. As this smaller than the bag above it is not large enough to carry all, particularly not the hood for the large lens and not the remote and microphone. The removable mesh pouch is the right size for the larger zoom lens.

Eagle Creek Pack-It Specter E-Cube comes in Large (25x19x9 cm, 227g £19.99), Medium (19 x 12.5 x 7.5 cm 86.2g £24.99) and Small (26 x 21 x 1.5 cm 59g £18.99) sizes and in white Strobe, blue and green. The large seemed idea, but turned out to be 26x19x11 cm making it too large for the back packs. The medium size has less ridge sides and holds the camera and the 18-200mm power zoom lens, but not much more. The Eagle Creek Pack-It E-Cubes are lighter than the alternatives. Padding is thinner but probably as effective as the two above.
Fitting an organisation pack with padded sides, top and bottom in a daily carry is harder than you may think. A daily carry backpack has internal depth of around 100mm but some of that space is taken by internal pockets and the laptop and/or tablet sleeve. Ideally you would have a camera cube with Velcro or 'O' rings to secure the cube in place, particularly if at the top of the backpack. One solution is to have only have the padded dividers and fix those to the sides of the backpack as in the Temporary Forever 24 hour switch shown below. By having internal Velcro fixings this protects the camera gear supports things placed in the top half when carried vertically as a backpack, stop the cameras from sliding around when switching to brief case or messenger mode and is the minimum extra weight to carry. Unfortunately these extra long padded dividers are not sold separately and you would have to make your own.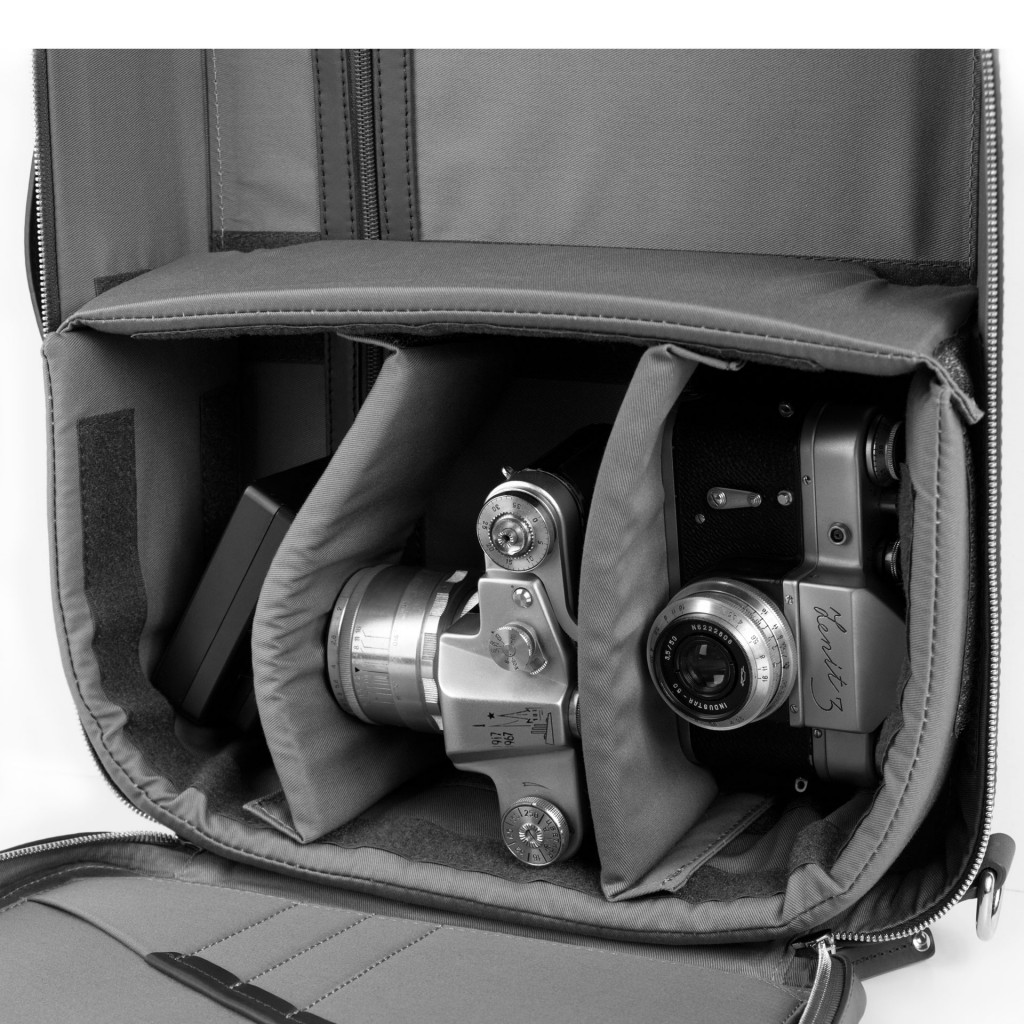 As an alternative to a full camera sling or backpack many uses have insert camera pouches. All the ones I have reviewed are at least 10cm deep and accommodate a full size DSLR kit. For users of 4/3rds and mirror less camera these are too large. Many bags have an external dimension of 10cm and less. Internal pockets reduce this further. They are usually self contained and can be lifted out with one hand holding everything securely in place.

Camera insert pouches are padded which may not be necessary if the backpack has padding in place because of its use to carry a laptop. What is required is padding to separate the camera, lenses, remote, flash, filters and microphone.
Individual lens pouches can be hung off the outside of some back packs. If these are well padded they might offer a solution for protection inside a thin foldable daily back pack like the Ruit Cruch. Mirror less cameras are small enough that they also fit inside a lens pouch.
The Lowepro 9x13cm lens pouch hold the Sony 16-200mm zoom lens with extensive padding all around. It is also possible to carry the Sony Nex 7 with the 16-50mm zoom lens. The lid has a mesh pocket to store the lens cap. It is 11.4cm x 12cm x 16.5cm height.
The belt loop is Velcro and full length.
The Sigma bag has less padded protection around the lens but retains the lens in the centre via the padding in the lid (needs the lens to fit tight so pad the bottom). It is 12cm x 12cm x 17cm high.
The belt loop is fixed and about 5cm long.
The smallest camera insert pouch can be found on eBay for under £4 This is idea for a DSLR and mirror less cameras. It is 16x12x10cm (wxhxd) but the soft nature of the padding makes it seem to take up more volume. It does have a removable divider for internal separation.
It will also store the remote and external microphone with the camera.
Shoulder bag insert organizers are sold and mainly advertised to organize a lady's handbag. They have minimal padding and loads of pockets. The ends have clinch down buttons. Available on Amazon and eBay for under £2 and in a choice of colours.
Turn inside out to put the handles on the outside and the pockets all held internally you have a light weight, slim insert for a camera and lens and space for accessories. Not high quality or tough material but more than enough when used inside another bag as intended.
In 1988 I might have been the only person using a laptop on the train to work. It was a monochrome, 17 pounds, Zenith with twin floppy disks and I programmed in Turbo Pascal on it for the 6 hour commute to and from the office for over three months.

In 2000 I got a Sony Picturebook, under 1 kg with a 1024x600 screen, 4MHz processor and a 4Gb hard drive. Ideal for editing Microsoft Access VBA and Word processing. It ran long enough on battery for the 1 hour train journey.
The mobile phone can do many of the jobs of a laptop. You can use Word and Excel and even editing software for photographs and videos. The screen have the resolution, some better than a 10 inch tablet or ultra book and some with micro SD slots for 200-256Gb cards enough storage capacity. With a pocket Bluetooth keyboard you can even get a decent typing speed.
The status symbol is an ultra book, or for gamers even a full size 17" i7 battery hungry slab. Certainly with a fast processor a Mac or Windows laptop is better for editing and viewing photographs and video footage. Watching a movie is also a better experience on a physically larger screen.
The Lenovo MXII700 ultra book is 1516g with case, active stylus and battery charger.
The Dell Venue 8 Pro 5855 is 828g with case, keyboard and active stylus sharing the charger for the mobile phone. 900g with its own battery charger. Add in the Bluetooth mouse, USB C to standard USB cable, the USB C hub/dock with SD card reader, HDMI out and two USB 3.0 sockets and the weight goes up to 1133 grams.
The Lenovo and Dell run Windows 10 Pro 64 bit and the same programmes. The Lenovo has 8Gb RAM and a 3820x2160 screen. The Dell has less capacity with a slower processor, only 4Gb RAM and a 1920x1200 screen. There is little point in carrying both a tablet and laptop.
Is the functionality and use whilst on holiday enough to justify the weight, insurance and hassle? Perhaps a small external hard drive to back up your photographs and leave the editing to when you return home.
I think I spend almost as much time trying to clean off the finger marks from the touch screen as using them!
In carrying the smaller 8" tablet and its thick protection casing all the volume and weight gravitates to the bottom of the Bobby Bizz backpack. The Tortuga Set Out Divide has a shallower pocket for a tablet which only partly solves the problem of everything still wanting the same limited depth.
The space allocated for a laptop is determined by the maximum dimensions of the backpack. If your laptop is too large it will not fit and has to be carried separately. If you have an ultra laptop then the space is too large taking up unnecessary bulk. A solution to this is to have a removable sleeve. One that reconfigures its size (as seen in the Akra and Vaga backpacks) or separate sizes for 11", (12"), 13", (14"), 15". As the backpack has the padding included on one side built in the top and three sides would be Velcroed in place. Alternative slips could include a full camera gear cube, a half camera gear / half tablet and accessory slip. In daily use a built in and fitted sleeve is nice, particularly if of a soft material to protect the laptop but you are likely to have to remove the laptop from the bag and put it in the security tray through the x-ray machines. A padded sleeve with no accessories or cables in it gives protection at all times and may only have the extra hassle of a zipper or more protective fold over cover.
Having removable modules can simplify the packing but does not help if you need laptop, tablet and camera equipment with you at any time. This what Neo does and puts the weight on the outside of the backpack, not next to the straps. It is also doubling up on the padding on the module and on the backpack itself. The Neo does not appear to have gone into production.



USB C became available in September 2017 but even many new devices still do not use it. If you have older devices you may require several cables:-
USB Mini - for direct connection to a Sony Nex 7 otherwise you need a full size SD card reader

USB Micro - for charging GPS Tracker, power bank (1of2)

USB-C - Sony XA1 mobile phone, Dell Venue 8 Pro 585, power bank (2of2)

USB C to USB C - Sony XA1 to Dell Venue 8 Pro without the need for an adapter or dongle

USB C to USB A female - a cable or adapter, to connect other equipment to Sony XA1 or Dell Venue 8 Pro

USB Micro B with - connector for 2.5" hard drive
If you have more than one device that needs charging using the same cable you either can save and carry only one cable or have to have a separate cable for each device so you can charge them at the same time. Short cables save on space and weight but you may find that the power outlet is half way up the wall or even at eye level when you are standing. You can't hang mobile phone, tablet, heavy batteries all charging off a wall plug.
You might be able to use the same USB charger for several devices such as mobile phone, tablet, camera battery charger, power bank, even laptop but it is more than likely needs a high spec charger.
You might need separate chargers for an electric tooth brush and electric razor. Braun Genius 9000 electric tooth brush and Series 9 9299 razor use the same European 2 pin charger. The carry case for the Genius 9000 has a USB output so you can charge the toothbrush at the same time as your mobile phone or other device.
Other small tech items include
carabineer - useful to hang stuff off your backpack/ I carried a pair to use the waist belt for the Bobby Bizz as a shoulder strap.

combination locks - to lock up zippers

3.5" jack doubler - so two people can listen on headphones to the mobile phone or tablet

3.5" to airline double plug - so you can use your ear buds on in-flight systems

pocket knife &/or pocket tool - Swiss Card, classic SD or a multitool

Magnifying glass - as simple as the Credit card sized fresnel lens or an Emoscope

Mouse

Stylus - active pen or capacitor stylus

Ballpoint pen

pocket flash light LED torch

SD/micro SD card reader USB C hub

Small power bank
You then need a cable tidy case to store these in. I used the storage pouch that accommodated my Sony Nex 7 camera and 18-200mm power zoom lens. This worked but the case is over 10cm deep and stored nearly everything (not mouse or the large solar power bank I carried) and so for daily carry I had to take my camera and lens out and use the fitted pockets of the Bobby Bizz for spare battery and the cables I needed with me. As an alternative the Side by Side is worth consideration.
The case is long and narrow and accommodates the accessories by being multilayered. This results in a lumpy packed out bag. The material construction is excellent. The elastic in both the top and bottom allow bulky items to be stored but lacks padding for protection. The Side by Side organizer holds an odd array of tech stuff and prevents them from minor scratches by locking them in place and keeping them separate.
Even with the amount I stored in this there is still pace to hold more.
Obviously this is not the only way to internally organize it.
The zipper on the side with the handle only opens part of the way. Unfortunately the buckle is not removable so you can not hang the Side by Side off a belt or your backpack by it - use a carbineer.
If you leave a bag unattended, say in a café, when getting another latte or on a train when going to the wash room lock it down. At airports and perhaps some other places any unattended package may be taken away or the bomb squad called in. Not all wash room cubicles have strong hangers to hold your bag off the floor.
In some parts of the world a carriage on a train packs out with people getting on. When the trains is ready to leave they leave the compartment taking anything not locked down. In the confusion your bag might be on its way out in under 60 seconds and in front of you.
Folding pack-away bags are generally useful. Some pack as small as a purse and most fit inside a jacket pocket. If you have a small backpack as your daily carry bag you might be refused entry to some places of interest or at least have to lock it in a locker before going in. Among the reasons for the restriction on backpacks is that the wearer is unaware of how far it extends backwards and objects on display can be knocked down and art on the walls scratched by a careless movement. If you have shopping in a tote and it is held close to you in front you might be let in without checking. You can carry a thin, light weight tote to cover up your backpack in such places e.g. the Go-Travel Tote (174g). The Bobby Bizz converts to a smart brief case hiding the straps away. The tote is still useful for items purchased or just to store your jacket when it gets warmer in the day.

This Go-Travel packable tote is useful for shopping and also as a cover for the Bobby Bizz.
If a backpack is going to be checked-it as cargo then placing it in an inexpensive packable tote or duffle gives the mesh padding and any straps extra protection from baggage handling. The large packable duffle from Go-Travel accommodates the Tortuga Set Out Divide. This is fairly heavy (567g), tough and heavy compared to the one above.
A duffle like this is also more flexible to accommodate packing cubes and extra luggage than a backpack. At 40 litres you would expect that.
At considerable expense you could use a Pacsafe Travelsafe X25 Anti-Theft Portable Safe with internal steel mesh. There are also 15l, 12l and 5l versions. It adds yet another 1.92lbs (873 g) to your travel kit and costs as much as many backpacks at 120USD. But, by all accounts, it really does the job.
Organisation is helped by the use of packing cubes. There are many brands available at different price points and a range of sizes. Eagle Creek has several ranges with the Pack-it Specter Tech being the latest and lightest to date.

PackHacker Guide to the Best Packing Cubes https://packhacker.com/guide/best-packing-cubes/
Shown below are the large and medium and small compression cubes and the large Pack-it Specter E-cube. The grey camera bag has been seen before.
The Eagle Creek E-cube turned out to be 11 cm deep and not 9cm as described. With the stiff frame and dividers it is rigid and too large for any of the compartments in the three backpacks I have.
Eagle Creek Specter Tech cubes are very light with very thin but tough material and well made.
The compression cubes can reduce the space taken up but results in squashing the edges leaving a bulge in the middle. The large cube fills the space available in the Tortuga Set Out Divide. The small cube has the XS (extra small) cube inside it, here being used for soaps.
There is not enough space in the Tortuga Set Out Divide to accommodate all the packing cubes. The stuff can be made to fit but is then loose to fall out.
On the expanded mesh side is the large cube.
The inexpensive fold away 40 litre duffle bag (actual dimensions of 55x33x22 cm) from GoTravel has room for all the packing but no separate laptop and pocketed compartments.
£13.99 from Boots The Chemist. These did not prevent swollen ankles on the flight out - a 10 hour journey. I was more comfortable when I did not use them on the return flight home. But one test does not prove or disprove anything.
So many suit cases go missing every year GPS trackers placed in them might tell you if they have ended up on a different flight. That assumes they will automatically get a cellular phone signal they can lock into in the destination country.
Mini GPS Smart Tracker Support Website & Phone App-long battery life and Rechargeable,Powerful Magnet and Waterproof-Real Time GPS/GSM/GPRS Car Tracking

In addition to the GPS Tracker you need a Standard SIM 2G on a network that is able to get coverage where you are and in your destination. You also need to set up an account for the online tracking.

This unit was easy to set up and worked very well until the aeroplane took off. It then failed to respond to SMS for the next three weeks. Oddly it started to track on the day of return, still 4527 miles from home. It had been outside for 5 hours in one location before it started to work again and plotted the course home only going silent in the air and in the London Underground. The supplier did suggest a few things none of which over came the fact that the unit would not pick up text messages to instruct it. Plugging the SIM into a mobile phone and the pending messages turned up.

In 25 days of touring in India I am now recharging the tooth brush. Over all it was worth taking but I wish they used a standard USB cable for charging and not the special one.

The four way charger was put to full use only once but frequently charged the tablet and phone at the same time. It is a shame that not all current devices uses USB C.

Didn't need the compass as Google maps worked so well on the mobile phone.

Several times I had to use the battery bank charger. Sometimes twice in a day.

Not being able to charge and use the tablet with external hard drive or link to mobile phone or camera was a nuisance. The Dell Venue 8 Pro 5855 does not have power pass through from the USB C hub. The external Toshiba 3Tb hard drive worked better from the USB-C to USB A adapter than from the hub. The hub required power input through the USB C socket to work.

The electronic versions of the Lonely Planet (do buy the latest version even if you manage to get an older edition downloaded for free) is harder to use than expected. The mobile phone mobi version is particularly bad. It needs a 'go to' and better search interface. Their are alternatives to the one I started with. FBReader seems to be okay.

Thermos flask I used only a couple of times to store hot tea. The mini boiler was useful in the cheaper hotel although they would have got me hot water if I asked. Other hotels had kettles to use and complementary tea bags and coffee.

Watching some films I brought on the external drive was worth the extra carry. It made evening train journeys pass fast and sharing a movie with people was fun. I was watching mainly Indian movies with subtitles.

I packed too many clothes but would have had less if I planned only 25 days and not 60. I did use three white collared shirts (two in the wash). I did use three under pants and four pairs of socks. I also used both sweat shirts and both long sleeve tee shirts. I should have washed the trousers but had wanted them for the wedding day and ended up too rushed to change into the clean unworn pair. Laundry was okay except getting clothes that did not belong to me and loosing a pair of pants. The named labels would have been a good choice - have them just didn't sow them on.

Probably should not have purchased made to measure the jacket. Amazing that they made it in under 24 hours. Have to see if I will wear it or if the tight arms end up bothering me too much.

The large 200mm power zoom lens was of limited use. It might have come into it's own on safari in Kerala. My daughter's smaller zoom of 50-210mm makes more sense (is lighter and packs smaller) but I wanted the power zoom for video recording.

Using the tiny 8" tablet worked. Tethered to the phone for data and internet connection worked so well. Remotely logging into my home desktop and home server worked even though Yasmin had to run up TeamViewer on the desktop for some reason two weeks in. Next time I think the lager 12" convertible tablet would be more comfortable to use.

The Bobby Bizz daily carry bag was so good in making me feel confident about wearing it and not having my stuff pick pocketed. The shoulder backpack straps could be more substantial. But over all it was great swapping is as backpack and brief case. Many locals commented on the good clean design. I still need a pouch for the camera and lens. The tech bag I have is slightly too deep to fit comfortably but was fine when I used the Bobby Bizz to hold all the electronics on flights and trains. As daily carry I don't need everything that I fitted inside the large tech bag. I was able to support the tech bag at the top but using the Gorilla tripod and battery pack. The space was tight at the bottom of the bag as everything gravitated to the space taken up by the Dell Venue 8 Pro with its case and keyboard.

The Tortuga Set Out Divide was great for being able to lock up stuff in my hotel room although only in Pune did they enter to clean out and relaid the bed with clean sheets and covers daily. The Tortuga was exactly right for my clothes but no room for the present I took or the jacket and medications I bought in India. The fold up duffle was perfect. Okay the coat hanger ripped it and I had the sewing kit ready to stitch it up but it seemed to be happy to take the strain of stuffing too much in. As Tortuga say on their web site there are many travellers taking a carry on back pack and a duffle to check in. On flights I packed the rigid Bobby Bizz into the Tortuga which had nothing else but the jacket in the front pocket. If it held internally the stuff that the Bobby Bizz has pockets for it would have worked as a larger (heavier) daily carry. It does not really hold the tech stuff well - camera as well as computer and cables. One of the two compartments needs to be a full 10 cm deep not both 8cm. If I needed both winter and summer clothes (Shimla and Kochi in December) then I would need at least 40 litres. The 40 litre Torgua Set Out and Riut Crush foldable daily backpack might have proved a better choice. I just loved the professional aspect of the Bobby Bizz and being able to stow away the straps. I did not use the foldable carry bag to cover the Bobby Bizz. I didn't go into many places to knock stuff down, but at the furniture exhibition did get pushed in tight and knocked a fruit press off the stand when I turned. I often failed to fully zip up both backpacks but never lost anything as they still held the contents deep enough and tight. I did loose some tissues out of the duffle on the train. Everything else was zipped up in packing cubes but the last minute purchase of some tissues.

The Eagle Creek Pack-it Spectre Tech packing cubes are very light yet strong and stood up to the 25 days of hauling around and being over stuffed. My set comprised of the large and extra small cubes and the medium and small compression cubes. I carried sandals loose in the duffle. Unfortunately the large cube is not a compression type or have a clean/dirty separator. The medium clean/dirty cube would have been better with another small cube.

I used the large bath towel instead of fussing reception for another towel. The small one wasn't needed. A standard bar of soap and the Lush bar for hair shampoo would have lasted the 60 days. 50-75ml of tooth paste is enough for two months.

I had no need for the sleeping bag liner.

Notepad was useful to jot down address to show drivers who could read English even if not clearly understand it spoken (particularly when you get the names mispronounced and traffic volume forces you to shout).

Don't buy anything except that which you already know you do want. Never book a tour. Book trains through Indian Railway and flights through one of the many online providers; one or two may give you 500 to 2000 rupees off. Hotel might book a train for you and you pay them in cash with 5% or less for the hassle and transaction charges they incur. Early on check your credit card company will pass the purchase. Both my credit card and debit card sent keys to my mobile phone - the UK one. Visa also did separately because I had not used the debit card for online transactions for over 6 moths. Than means putting your UK SIM back into the phone - okay if you have a tablet connected to Wi-fi but not if it is tethered to the foreign SIM for data or worse on the mobile phone with only one SIM slot! Make sure that your accounts are fully up to date with phone numbers and passwords needed when contacting them.

If exchanging money insist upon a receipt of the transaction so you can exchange back if needed later.

I packed sandals which were not really needed. I did use them when I washed the shoes a couple of times.

The sleeping bag liner was never needed. The hotels I used did provide clean sheets and covers. Even in the cold nights (7 degrees) covers were adequate.

GPS Tracker would have been great had I got it to work outside of the UK

immediately or if the support enabled me to get it to work.
---
Last updated 24th October 2019