Slings - carrying light
Alpaka Go Sling Pro
The Alpaka Go Sling Pro is a camera sling bag as it includes two camera lens dividers. 5.5 litres, 28 x 11 x 18 cm. 698 grams. For its size it is heavy. A limited edition X-pac version in black with interior orange nylon liner sold for £79 ($109) and weighs 550 grams.
Imported from Australia in May 2021 for £44 but came to £67 with postage and VAT. The Amazon price being £85.

https://alpakagear.com/products/go-sling-pro

Being a camera bag it is well padded on all sides. Made with a slash resistance 5 layer material with Kevlar.

The main compartment fits an 8" Dell Venue 8 Pro with the Dell keyboard and case, but it is tight. There is a Velcro tab to fasten over the tablet.
As the back over hangs this pocket the strap isn't really needed, at least not if I carry either my Sony XA1 phone or Dell Venue 8 Pro tablet. The front pocket shares some of the volume of the main compartment, leaving a space of at least 24 x 14 x 6 cm over 2 litres. There is a small pocket on the left where the USB cable fits to the external opening. If the cable is not fitted in there is an opening to the outside. The interior is grey Velvet with the tablet pocket being bright blue 210D Rip stop nylon. The zipper is YKK StormGuard. The zips can be locked together with a TSA combination lock.

The front pocket is also lined with bright blue 210D Rip stop nylon.
It has a zipped pocket and two stretchable mesh pockets.
The rear pocket is bright blue 210D Rip stop nylon with a detectable key ring. This is tight and when packed out the pass through luggage strap is very tight to use. This luggage pass through can be used to grab the sling, particularly if the strap is removed.

Two D rings are provided to attach to a backpack. They hang down so can not be used to attach thin straps as a shoulder bag although the larger D rings where the shoulder strap is attached could be used that way. They could be used to strap on a tripod or umbrella but make the carry uncomfortable.


The wide strap is fixed with Velcro. The lower section has a web pass through to which a pouch or carabineer could be attached. The longer top section has a small 2.5 cm rubberised strap fixed that could hold a carabineer or sun glasses hung. The sliding clasp is magnetic. Two large D rings are used to tighten and loosen the strap.
There is a detachable key loop inside.
Packed out with a Sony Nex 7, 30 mm macro and 18-200 mm power zoom lens, Sony XA1mobile phone and Dell Venue 8 Pro tablet. Other items include card wallet, coin holder, card holder, everyday carry tools (pocket knife, pen torch, pen) and sanitizer. With room for cables and spare camera batteries. The Solar panel battery pack could be hung on the outside, as could a suitable water bottle.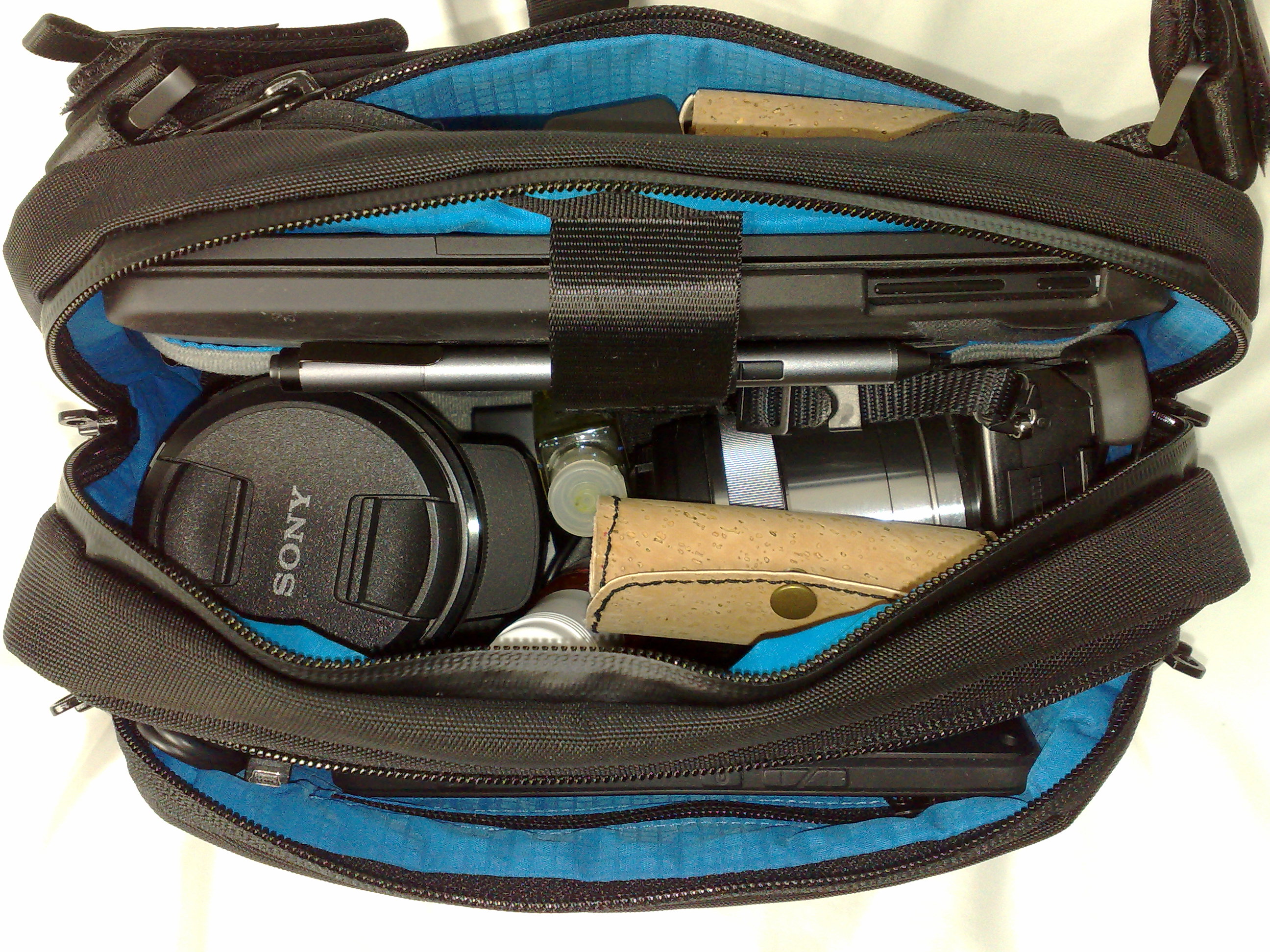 At 4.3Kg this has put the Go Sling Pro to it's limits.

Carrying the smaller 16-50 mm zoom and not including a tablet reduces the carry to 2kg. It can be used as a waist pack allowing for quick access to the camera and for swapping the lens. This can also be done when carried cross body and swung to the front.


Loaded with mobile phone, wallet, camera and tablet the Alapka Go Sling Pro is comfortable to carry with the wide well padded strap and only 2462 grams.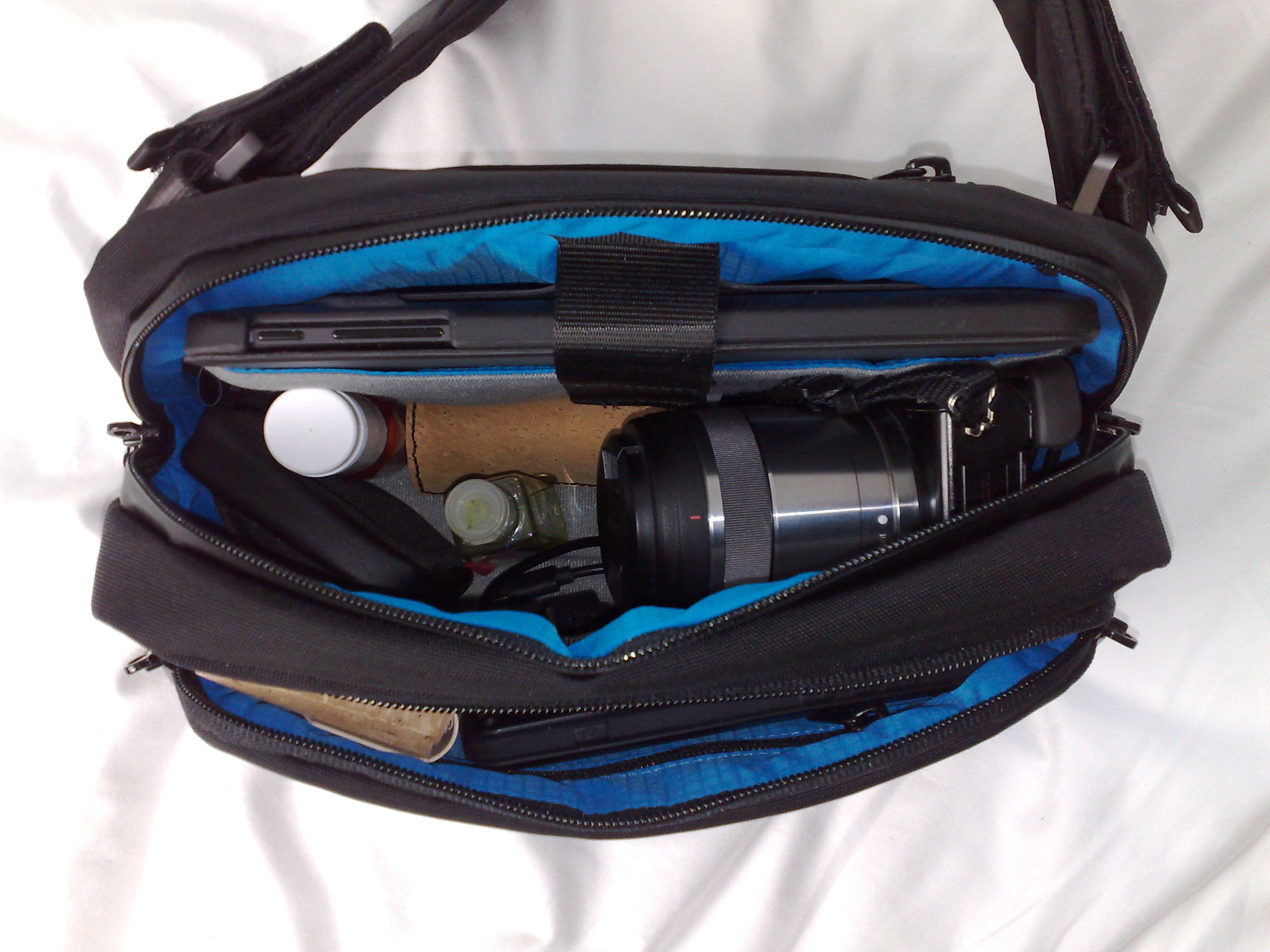 The Alpaka Go Sling Pro can be used as a camera cube and neatly fits in the Bobby Bizz convertible backpack storing the Sony Nex 7 with 16-50 mm and 18-200 mm power zooms, mobile phone, earphones, wallet, batteries and cables.
Reviews
ALPAKA Go Sling Pro Review (Initial Thoughts) - Pack Hacker
Alpaka Go Sling Pro review - The Gadgeteer (the-gadgeteer.com)
---

Last updated 22nd May 2021